Do not order from any of the sites on this list.
ill update this has i find them
i order a 15″ mobile touch display and they send me a broken phone stand.
there paypal name email are Ario Trae arioonlineserviceteam@gmail.com
do not order form them its nothing but a scam
hosted with
rebelhosting.net
— Example order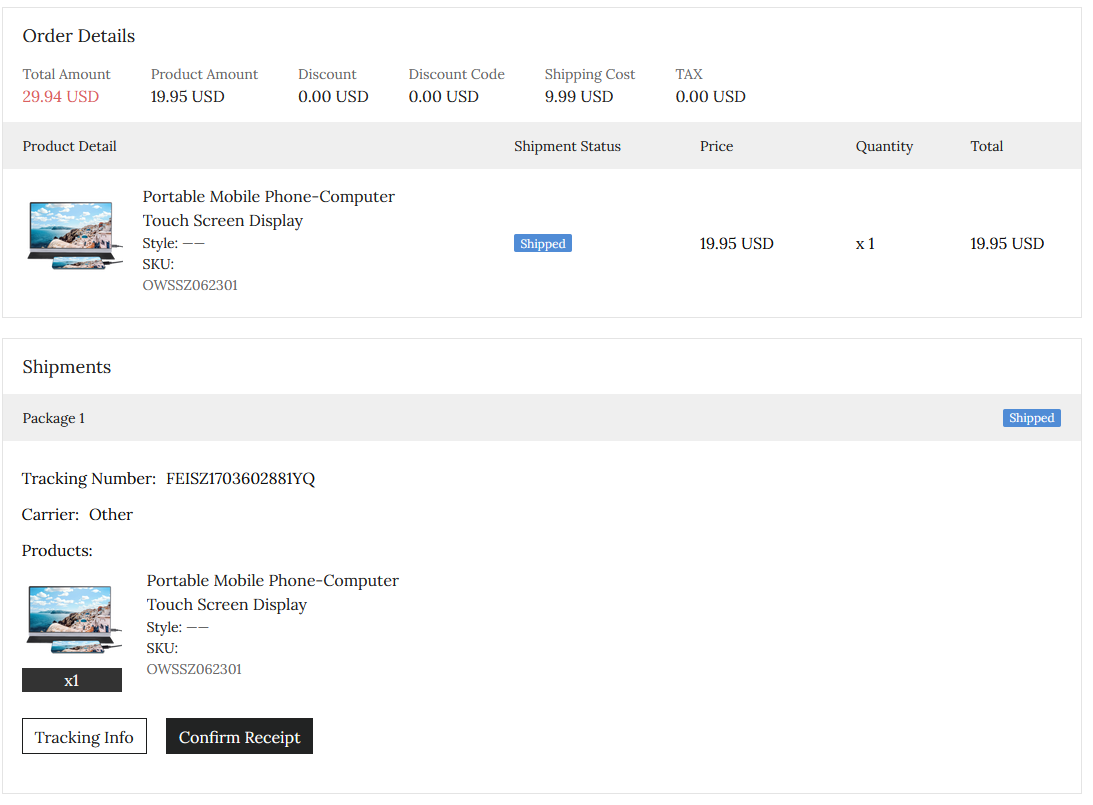 This item never arrived. What i got was a $1 item phone stand.
From what I now understand. the seller is hoping it will pass on the payment to your bank. but what they don't understand is the consumer has protection against this type of scam.
Please contact your bank and get the charges retracted. Use this page as evidence if you need.
add to there hosted fraud
https://www.abuseipdb.com/check/198.11.180.36
hosted with Alibaba.com
looks like the moved to a new host here in the US
rebelhosting.net
i have emailed them letting them know about this scam
Do not pay to the email of arioonlinecustomercaresteam@gmail.com on paypal or Square or Vennmo
The FTC has come up with some guidelines you should fallow https://www.consumer.ftc.gov/blog/2020/12/all-i-want-christmasis-what-i-ordered?utm_source=govdelivery
Confirm that the seller is legit. Read reviews and recommendations about the product, seller, and warranties from sources you trust. Look for reviews about their reputation and customer service, and be sure you can contact the seller if you have a dispute.
'Twas the night before? Look carefully at the shipping date before you order. If there's no date given, the seller has 30 days to ship. If you're notified about a delay in shipping, you have the right to cancel the order and get a full refund. If you decide to cancel, let the seller know right away so you won't be billed.
Give them some credit. If possible, pay with a credit card — that gives you many protections under the law. If you pay with a credit card, you may be able to dispute certain charges — and temporarily withhold payment for those charges pending an investigation.
Track — and guard — your delivery. Keep a record of your order, including tracking numbers. That way you can see where your stuff is in the shipping process. Also, consider having your items held at the post office or delivered to a family member or neighbor in case you're not home. Some companies have their own secure locations where you can have your merchandise delivered. This protects you from having some Grinch steal your holiday right from your doorstep.

 
another site found nozdy.com same scam and facebook ads and twitter https://twitter.com/NozdyEmpire
im seeing that shoplazza.com will not take down the fake sites.
if you see powered by shoplazza.com please do not order from this site.
shoplazza.com Dues not seam to care at all.